CSU's Got Talent Webcast Training - An Everyone Culture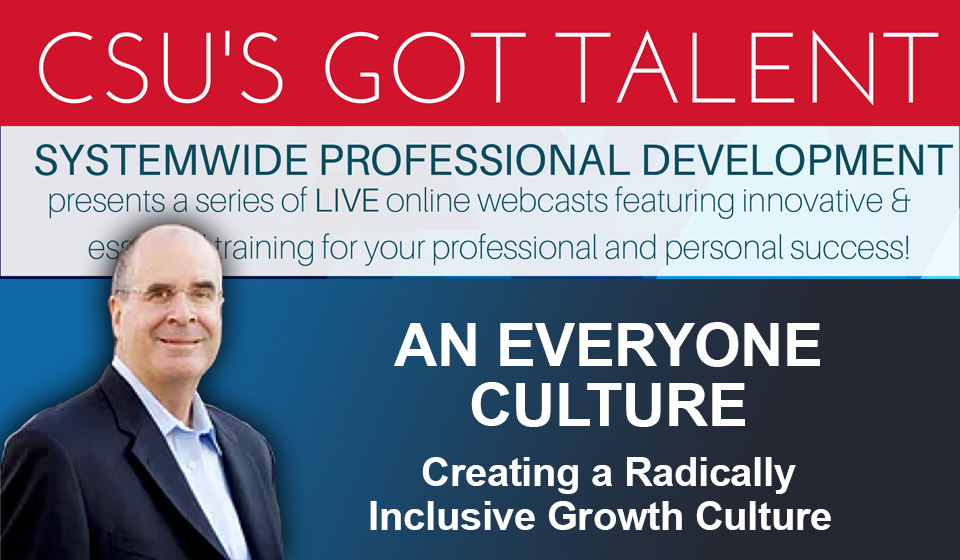 Systemwide Professional Development presents CSU's GOT TALENT, live webcasts featuring innovative & essential training for your professional and personal success!
What happens when an organization does everything in its power to create a 21st Century Growth culture in which everyone - not just select "high potentials" - could overcome their own internal barriers to change and use errors and vulnerabilities as prime opportunities for personal and organizationla growth?  Discover the underlying science at the heart of DDOs (Deliberately Developmental Organizations) - from their disciplined approach to giving feedback, to how they use meetings, to the distinctive way that managers and leaders define their roles.  See how the culture you create is your strategy - and how you can incorporate these leading edge ideas into your work/learning environment.
About Andy Fleming
Andy Flening is the CEO and founding principal of WAY TO GROW INC, the research and consulting home of the Deliberately Developmental Organization TM.  Andy is also a contributing author to the firm's highly acclaimed book, An Everyone Culture: Becoming a Delibarately Developmental Organization, named "Best Management and Workplace Culture Book of 2016" by 800-CEO-READ.  Along with 30 years of corporate and consulting experience at leading companies, ANdy brings unique insight, ability, and commitment to helping individuals and organizations flourish.  Andy received his undergraduate degree in Economics from yale University.  His graduale work includes and MBA from Hardvard Business School and sustained study at Emory University's Candler School of Theology.
UPCOMING CSU's Got Talent Webcast - Mark your calendar:
October 26 @ 11am - "15 Secrets Successful People Know About Time Management" with New York Times Best-selling author, keynote speaker and CEO of Leadx, Kevin Kruse 
November 16 @ 2pm – "Leader as Coach: Save Time & Solve Problems by Asking the Right Questions" with Training Specialist, Julia Heatherwick, from Humboldt State University Human Resources and Academic Personnel Services
December  12 @ 10am - "Reach: The Secret to Stepping Outside Your Comfort Zone" with Professor, Author and Thought-Leader, Andy Molinsky
All CSU staff and faculty are invited to attend this free webcast training! No registration necessary, limited to the first 250 logins (multiple viewers can sit in the same room and use one link.)
Login Instructions
Please login as a "guest" and then type in your CAMPUS/Your Full Name (i.e CSULB/Steven Spielberg). Listen to the audio via your computer speakers. Also available: join from your mobile device by downloading the Adobe Connect app!