HR&APS Welcomes Back Everyone for the New Semester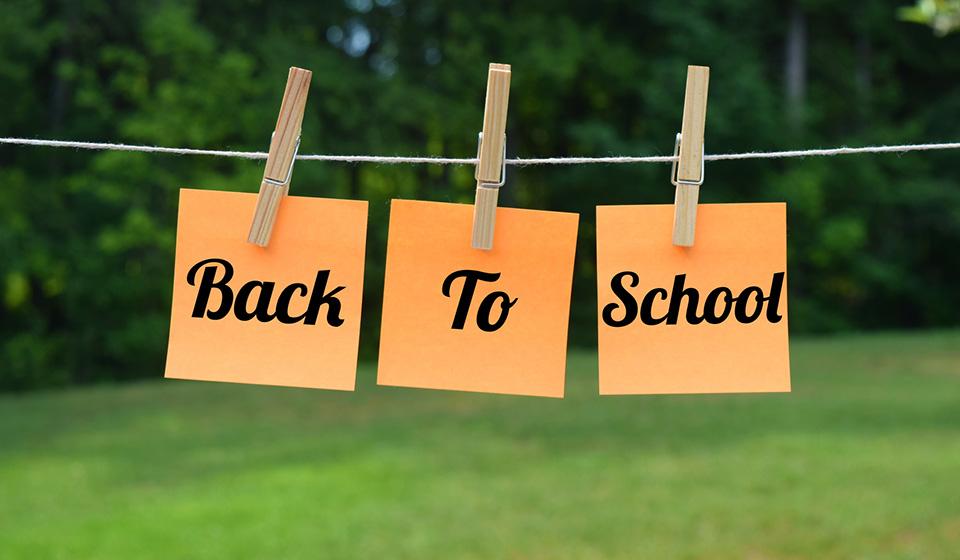 The Human Resources and Academic Personnel office is buzzing with activity as we welcome back students, faculty and staff for the new academic year!
As the new semester begins, it's a good time to think about planning for your professional development. Professional development can take many forms across campus. What are your professional goals? We have a number of resources that are available to help you reach them, such as:
- HRAPS Training Calendar
- Skillport
- Fee Waiver Program
- Library Skillshops
- Center for Teaching and Learning
- College of Extended Education & Global Engagement
- Osher Lifelong Learning Institute at HSU
Not sure where to go or how to move forward professionally? Visit the HRAPS Benefits Fair on September 25 from 9:00 a.m. to 11:00 a.m. in the Goodwin Forum. The Professional Development group will be there to answer any questions you have on upcoming classes or development needs. We will also have vendors available to share information on the valuable services and benefits available to you as an HSU employee.
Featured Tech Course
Microsoft Excel 2016 Essentials: Data Presentation Strategies
Microsoft Excel 2016 gives you many options for improving the presentation of your data. In this course, you will learn about adding visual impact to your data using Sparklines, linking to different locations using hyperlinks, and creating custom formatting rules. You will learn about the many tools Excel 2016 provides for visually enhancing the appearance of your data.
Auto fill and Flash Fill
copy data using Auto Fill in Microsoft Excel 2016
fill a series using Auto Fill in Microsoft Excel 2016
complete data lists using Flash Fill in Microsoft Excel 2016
Hyperlinks
create a hyperlink in an Excel 2016 workbook
modify an existing hyperlink in an Excel 2016 workbook
Conditional Formatting
apply conditional formatting using Quick Analysis in Microsoft Excel 2016
create custom conditional formatting rules in Microsoft Excel 2016
Creating Sparklines
create and edit basic sparklines in Microsoft Excel 2016
create custom sparklines in Microsoft Excel 2016
Course time: 48 minutes
Follow-Up Training
Employees who complete this course will be invited to attend an Instructor-Led follow up training on campus.  We'll send a personal invitation with the place and date information.
 Principles of Supervision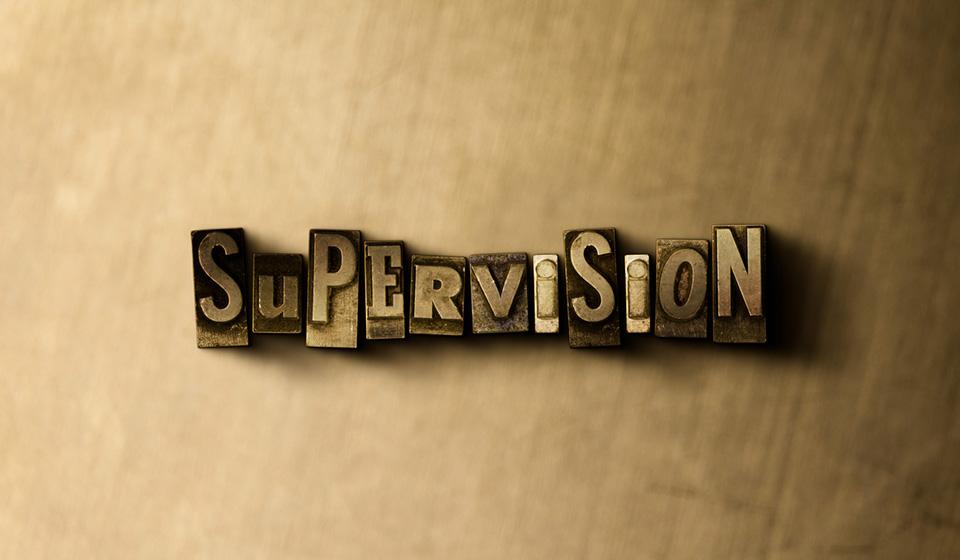 This two-day, CSU-designed, "Principles of Supervision" program covers basic supervision skills to include performance management, developing direct reports, guiding and organizing the work, managing relationships, and managing yourself. (Open to MPP only)
Session Date: September 20 and 21, 2017
Time: 8:30 am – 5:00 pm
Location: UC Banquet Room
Featured Soft Skills Course
The Art and Science of Communication
There is a science behind communication, including how we react neuro-physiologically to others – their actions, words, tone, and body language. You can develop skills in connecting with others so that your communication intention is clear and understood. There's also an art to communication, allowing your authentic self to shine through and allowing the exchange with another person to unfold naturally. Interpersonal communication is complicated: there's more than just one conversation happening. There is what you're thinking and saying as well as what your audience is thinking and saying. This course will teach you the art and science of communication by discussing how to connect with your audience and how to enhance and strengthen that connection as you communicate.
Objectives
Identify situations that benefit from sharing communication responsibility

Recognize behaviors that promote making connections with people

Identify ways to show interest when communicating with others

Categorize questions that help to strengthen a communication connection

Identify the basic principles of assertive communication

Recognize ways of connecting with your audience
Course time: 21 minutes
Rethinking Inclusive Teaching: Disciplinarity and Diversity in Higher Education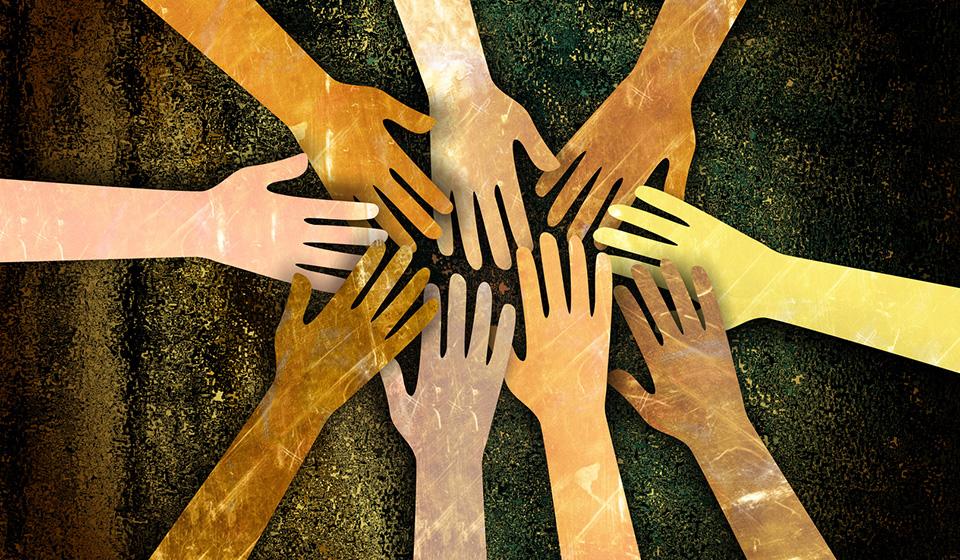 Visiting Scholar Linda Adler- Kassner of University of California Santa Barbara, illuminates the connections between the important goals of anti-racism and equity to strategies for creating disciplinary access for all students.
Her talk will help HSU faculty think about learning bottlenecks in their own courses and how to support learning for all students by making disciplinary concepts more visible and accessible. Followed by Q and A.
Friday, September 8, 2017 - 3:00pm
Follow-Up Workshop
Rethinking Inclusive Teaching: Designs for Disciplinary Access
Friday, September 22, 2017 3:00 - 4:30 pm
CSU's Got Talent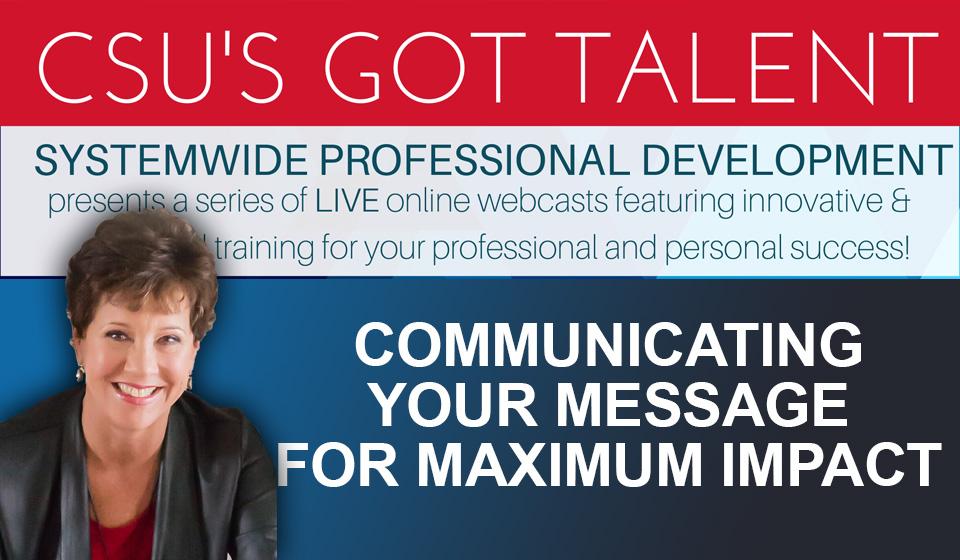 CSU's GOT TALENT series continues with Communicating Your Message for Maximum Impact. This live webcast recording is now available on Skillport. See attached flyer for information related to this presentation.
You can find the webcast recording by:
1. Searching
    a. By Name: Communicating Your Message for Maximum Impact
    b. By ID: __scorm12_spcentralsta_csu_talent_wc_ max_impact
    c. Keyword: communication
2. Browse the Catalog
    a. Systemwide Custom Content
        i. CSU's Got Talent
Subscribe to Our Newsletter
Learn to Use Skillport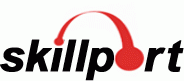 Learn how to navigate, find courses, books, and other content on Skillport.
Skillport Features
Find an Instructor Led Training Session
From Skillport's Home page:
Click the "Instructor Led Training Sessions" link on the left hand side.

Scroll the resulting list until you find the course you need and click the Course Title.  

The Course Page will open.  
Select the desired session from the list and click "Enroll".