CSU's Got Talent Webcast Training - Working With Difficult People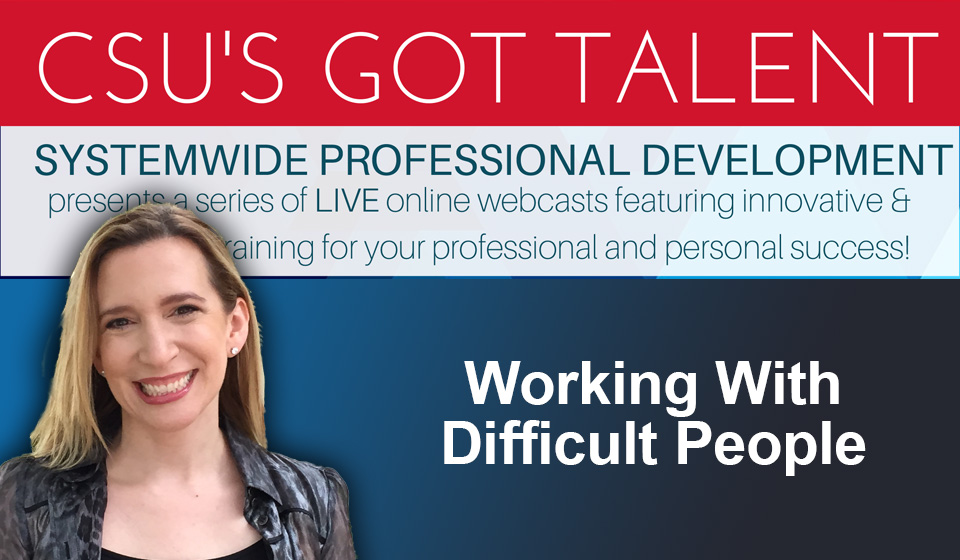 Systemwide Professional Development presents CSU's GOT TALENT, live webcasts featuring innovative & essential training for your professional and personal success!
"Working With Difficult People: Handling Types of Problem People Without Losing Your Mind", May 14 from 10:00 - 11:00 AM PT
Your work day is filled with them--people who frustrate, impede, maneuver, undermine, plot, connive, and whine. In this session, Amy Cooper Hakim details specific techniques for handling them, with easy-to-follow scenarios for different situations. She will discuss modern issues including technology, generation gaps, and language barriers. Learn the kinds of culprits, from tyrants and bullies (regular & cyber) to the pushy and presumptuous; and helpful strategies and phrases for diffusing workplace tensions and effectively resolving conflicts. 
About Amy Cooper Hakim, PH. D.
Amy Cooper Hakim, Ph.D., is an industrial-organizational psychology practitioner and workplace expert. She is a speaker, author, and the executive consultant and founder of The Cooper Strategic Group. She helps employees and employers to get along better, and coaches leaders and employees to improve productivity, morale, satisfaction, and overall work-life balance. Her book, Working with Difficult People, provides clear strategies to effectively handle the ten types of difficult bosses, colleagues, and subordinates. The book hit #1 in sales at Amazon for Business Etiquette books and was highlighted in Parade Magazine. Dr. Amy has been featured in numerous publications, including the New York Times, Wall Street Journal, NBC News, Chicago Tribune, Vogue, Cosmopolitan, CNN, CNBC Make It, and MSN. She has also been a guest on a variety of news and radio shows. She has a blog at Psychology Today, called "Working with Difficult People."
All CSU staff and faculty are invited to attend this free webcast training! No registration necessary, limited to the first 200 logins (multiple viewers can sit in the same room and use one link.)
Please login as a "guest" and then type in your CAMPUS/Your Full Name (i.e HSU/Steven Spielberg). Listen to the audio via your computer speakers. Also available: join from your mobile device by downloading the Adobe Connect app!
Technical questions: Contact Jennifer Wicks, Executive Producer, at jwicks@calstate.edu or 562-951-4525 prior to webcast day.