CSU's Got Talent Webcast Training - Strategic Persuasion Through Body Language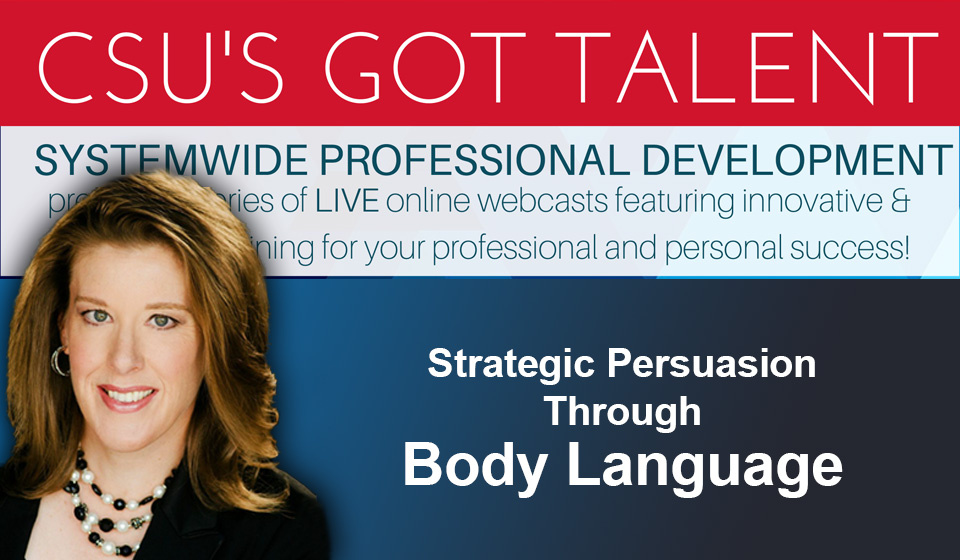 Systemwide Professional Development presents CSU's GOT TALENT, live webcasts featuring innovative & essential training for your professional and personal success!
"Strategic Persuasion Through Body Language", January 29 from 10:00 - 11:00 AM PT
Discover Strategic Body Language so you uncover secrets hidden in plain view and hear "Yes!" more easily and more often during: interviews, networking events, sales meetings, negotiations, conversations with your kids or spouse.  Discover hot to read body language; how to get people to like you only using body language; how to easily get others to buy in to your ideas; what message is hidden in a handshake; how to uncover deep truths; how to detect lies; and more.  Attendees will laugh, learn and win fabulous prizes behind curtain #3 in this eye-opeining, gameshow style webcast.
About Traci Brown
In her fast paced, interactive programs that are sure to entertain, Traci teaches lie, fraud and identity theft detections, she's used to get to the truth in billion dollar business deals, crimes and politics.  Traci is not only a master lie detector, she's a persuasion expert.  Her persuasion system landed her a lucrative product deal with Kevin Harrington, a Shark from ABC's hit show Shark Tank and took her on a wild ride to the big time consuper markets of TV shopping channels, infomercials and beyond.  After her fast paced, interactive program, you'll be able to immediately use the same tools to create more success in your own organization and personal life.  She is the past president of the National Speaker's Association Colorado Chapter and the author of four books, How to Detect Lies, Fraud and Identity Theft, Persuasion Point, Body Language Confidential and Body Language for Profits.
All CSU staff and faculty are invited to attend this free webcast training! No registration necessary, limited to the first 200 logins (multiple viewers can sit in the same room and use one link.)
Please login as a "guest" and then type in your CAMPUS/Your Full Name (i.e HSU/Steven Spielberg). Listen to the audio via your computer speakers. Also available: join from your mobile device by downloading the Adobe Connect app!
Technical questions: Contact Jennifer Wicks, Executive Producer, at jwicks@calstate.edu or 562-951-4525 prior to webcast day.