CSU's Got Talent Webcast Training - Secrets of Successful Business Writing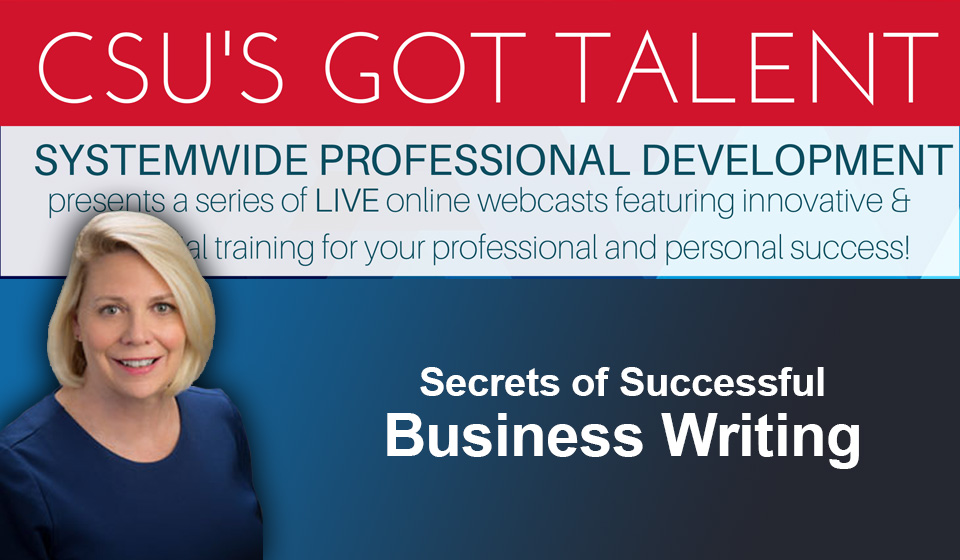 Systemwide Professional Development presents CSU's GOT TALENT, live webcasts featuring innovative & essential training for your professional and personal success!
 How to write clear, powerful and persuasive email messages and social media posts.
"Secrets of Successful Business Writing", October 11 from 10:00 A.M. - 11:00 A.M. PT
Learn the secrets of conversational writing that convey professionalism to peers and the public
Successful business writers know how to write email and social media posts that are read and acted upon, not ignored and deleted. Whether writing for CSU or yourself, it's essential to be clear, concise, and compliant. In this session, Nancy will reveal how to write for results, minus grammar goofs, tone-deaf language, and message miscues. Learn the secrets of conversational writing that conveys professionalism to peers and the public.
About Nancy Flynn, M.A.
Founder of Nancy Flynn Public Relations, Inc. and its Business Writing Institute™ and ePolicy Institute™ training divisions, Nancy Flynn is a recognized expert in traditional and electronic communication. The author of 13 books published in six languages, her titles include Writing Effective E-Mail, The ePolicy Toolkit, and The Social Media Handbook. An in-demand trainer and business writer, Nancy Flynn has helped clients worldwide improve their writing. An authority on e-policy and compliance, she is an expert witness for the government and law firms in litigation related to policy and the web. A go-to media source, she often is in the news. Nancy Flynn has served as an adjunct faculty member at The Ohio State University, teaching business and technical writing to graduate and undergraduate students.
All CSU staff and faculty are invited to attend this free webcast training! No registration necessary, limited to the first 200 logins (multiple viewers can sit in the same room and use one link.)
Please login as a "guest" and then type in your CAMPUS/Your Full Name (i.e CSULB/Steven Spielberg). Listen to the audio via your computer speakers. Also available: join from your mobile device by downloading the Adobe Connect app!
DID YOU MISS IT?
Watch the recordings here: https://centralstationu.skillport.com
Search: CSU's Got Talent (click View All to see all of the episodes)
Technical questions: Contact Jennifer Wicks, Executive Producer, at jwicks@calstate.edu or 562-951-4525 prior to webcast day.