CSU's Got Talent Webcast Training - Navigating the Multi-Generational Workplace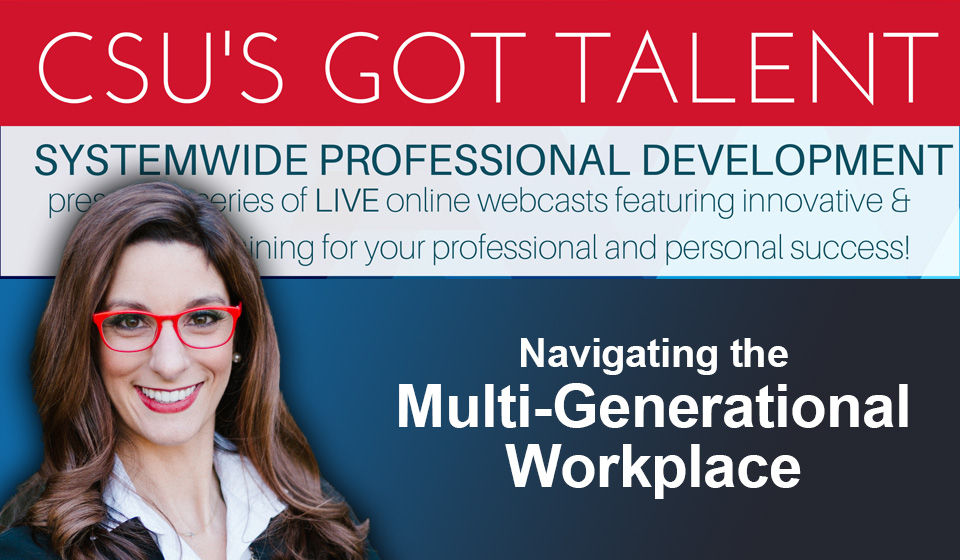 Systemwide Professional Development presents CSU's GOT TALENT, live webcasts featuring innovative & essential training for your professional and personal success!
"Navigating the Multi-Generational Workplace", March 20 from 10:00 - 11:00 AM PT
For the first time in America's modern history, there are five generations interacting in the workplace. This diverse environment provides an exciting, but sometimes challenging opportunity to effectively communicate and engage employees' generational strengths. This interactive session will address the mainstream media myths of generational warfare in the workplace and provide insight about each generation's strengths, preferences, and communication styles. Special attention will be given to the millennial generation, as much time and attention has been given to this group of employees and the behaviors they bring to the workplace, as well as others' attitudes about the millennial generation. Attendees will leave with concrete ideas and steps about how to capitalize on generational preferences to create a positive and productive work environment for themselves, their colleagues, and the people they serve. 
About Leah C. Georges
Leah Georges, PH.D., M.L.S. is an Assistant Professor in Creighton University's Doctoral Program in Interdisciplinary Leadership.  She holds a B.A. in Psychology from Creighton University, a Master of Legal Studies degree from the University of Nebraska College of Law, and a Ph.D. in Social Psychology from the University of Nebraska-Lincoln. As a member of the Association of Leadership Educators, Leah advises students and leadership educators in teaching and advising best practices, leadership theory, and policy reform.  She conducts research and presents to local and national audiences in the areas of millenial leadership and generations at work, the power of effective followership, and emotion and legal decision making.
All CSU staff and faculty are invited to attend this free webcast training! No registration necessary, limited to the first 200 logins (multiple viewers can sit in the same room and use one link.)
Please login as a "guest" and then type in your CAMPUS/Your Full Name (i.e HSU/Steven Spielberg). Listen to the audio via your computer speakers. Also available: join from your mobile device by downloading the Adobe Connect app!
Technical questions: Contact Jennifer Wicks, Executive Producer, at jwicks@calstate.edu or 562-951-4525 prior to webcast day.