CSU's Got Talent Webcast Training - Managing Up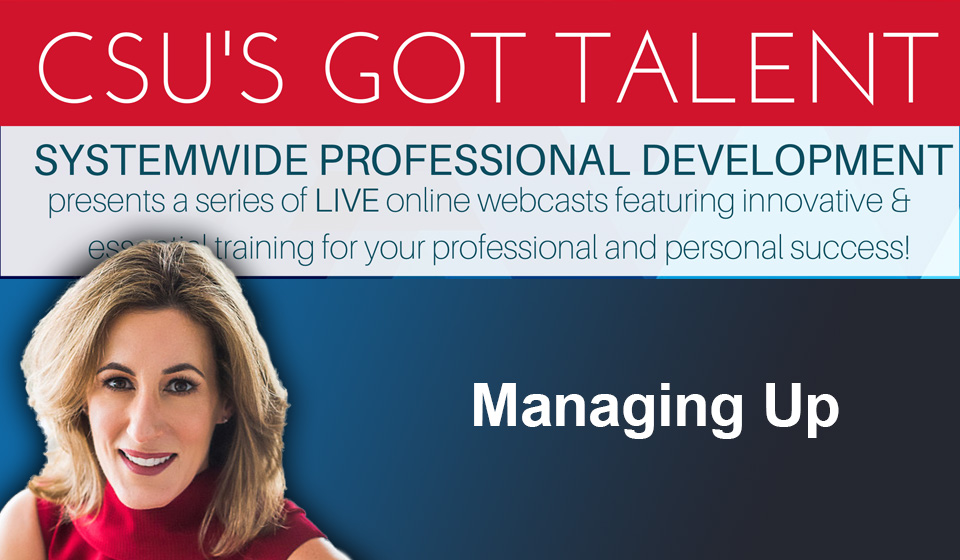 Systemwide Professional Development presents CSU's GOT TALENT, live webcasts featuring innovative & essential training for your professional and personal success!
"Managing Up: How to Move Up, Win at Work, and Succeed With Any Type of Boss", October 22 from 10:00 - 11:00 AM PT
Managing Up is your guide to the most valuable 'soft skill' your career has ever seen. It's not about sucking up or brown-nosing; it's about figuring out who you are, who your boss is, and finding where you meet. Learn about building real relationships with people who have influence over your career. In this session, best-selling author, Mary Abbajay delivers strategies for developing these all-important connections and building more than rapport. You become able to quickly assess situations, and determine which actions will move you forward; you become your own talent manager, and your boss's top choice for that new opportunity. As a skill, managing up can do more for your career than simply 'networking' ever could.
About Mary Abbajay
Author, President & CEO of Careerstone Group
Mary Abbajay is author of the best-selling Managing Up: How to Move Up, Win at Work, and Succeed with Any Type of Boss and the president of Careerstone Group, LLC, a full service organizational and leadership development consultancy that delivers leading-edge talent and organizational development solutions to business and government. As a sought-after author, speaker, consultant, and trainer, Mary helps clients develop the strategies, skills and sensibilities needed for success in the 21st century. Her expertise lies in helping clients create dynamic and productive workplaces that foster professional and personal excellence and growth. Mary is a frequent expert contributor for television, radio and print publications where she provides practical leadership and career advice.
All CSU staff and faculty are invited to attend this free webcast training! No registration necessary, limited to the first 200 logins (multiple viewers can sit in the same room and use one link.)
Please login as a "guest" and then type in your CAMPUS/Your Full Name (i.e HSU/Steven Spielberg). Listen to the audio via your computer speakers. Also available: join from your mobile device by downloading the Adobe Connect app!
Technical questions: Contact Jennifer Wicks, Executive Producer, at jwicks@calstate.edu or 562-951-4525 prior to webcast day.