CSU's Got Talent Webcast Training - Leading to the Next Normal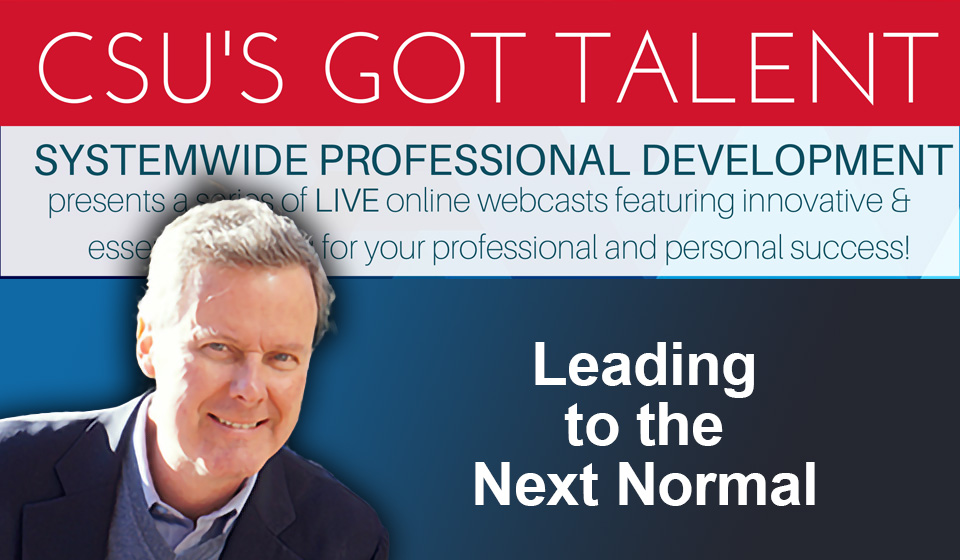 Systemwide Professional Development presents CSU's GOT TALENT, live webcasts featuring innovative & essential training for your professional and personal success!
Leading to the Next Normal: Navigating Turbulent Times
The coronavirus pandemic has disrupted every facet of our lives. Organizations have made many short-term changes, some of which will lead to enduring adaptations to how we work and live. The challenge for leaders is to make sense, instill meaning, create space, and craft places that enable people to thrive in the "next normal." In this interactive presentation, Eric McNulty will discuss how and why organizations should be ambitious and aspirational in times like these.
 Presented by Eric McNulty
Eric is an active writer, speaker, and educator on leadership and, in particular, leading through crisis, change, and turbulence. He holds an appointment as associate director of the National Preparedness Leadership Initiative (NPLI), a joint program of the Harvard T.H. Chan School of Public Health and Harvard's Kennedy School of Government. Eric teaches in numerous executive education programs and graduate level courses at Harvard and speaks to executive audiences around the world about the challenges of leading in fast moving, unpredictable circumstances. His most recent book is You're It: Crisis, Change, and How to Lead When it Matters Most (PublicAffairs, June 2019), co-authored with his Harvard NPLI colleagues.
All CSU staff and faculty are invited to attend this free webcast training! No registration necessary, limited to the first 200 logins (multiple viewers can sit in the same room and use one link.)
Please login as a "guest" and then type in your CAMPUS/Your Full Name (i.e CSULB/Steven Spielberg). Listen to the audio via your computer speakers. Also available: join from your mobile device by downloading the Adobe Connect app!
DID YOU MISS IT?
Watch the recordings here: CSU Learn
Search: CSU's Got Talent (click View All to see all of the episodes)
Technical questions: Contact Jennifer Wicks, Executive Producer, at jwicks@calstate.edu or 562-951-4525 prior to webcast day.