CSU's Got Talent Webcast Training - Leader as Coach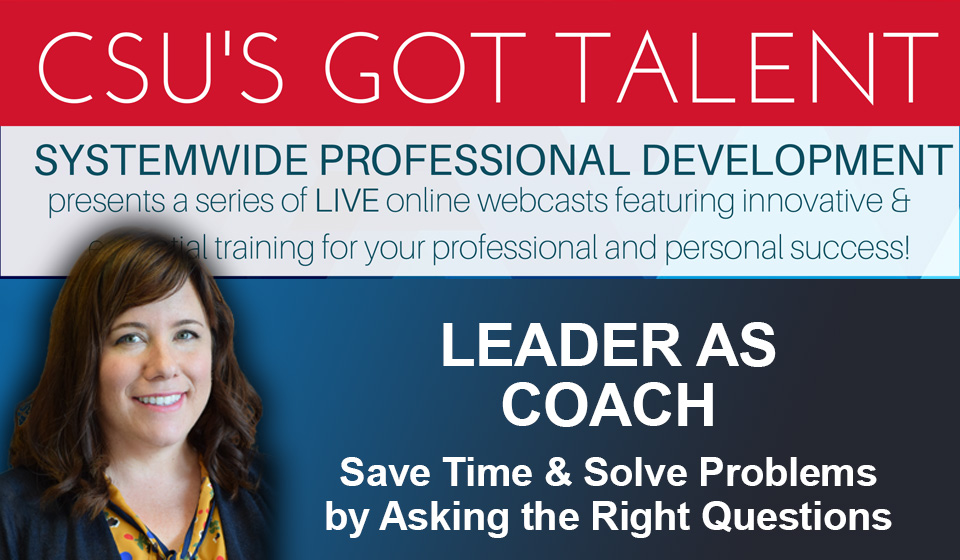 Systemwide Professional Development presents CSU's GOT TALENT, live webcasts featuring innovative & essential training for your professional and personal success!
In this webcast, Julia Heatherwick, Training Specialist at Cal Poly Humboldt's Human Resources & Academic Personnel Services, presents:
"Leader as Coach, Save Time and Solve Problems by Asking the Right Questions", November 16 from 2:00 P.M. - 3:00 P.M. PT
Do people ask you to solve their problems?  Are you frustrated with the outcome of conversations with employees?  As a leader, you can use a coaching approach to help your employees uncover their own answers for the problems they face.  Discover how listening and asking powerful questions can engage and motivate your employees.
All CSU staff and faculty are invited to attend this free webcast training! No registration necessary, limited to the first 200 logins (multiple viewers can sit in the same room and use one link.)
Please login as a "guest" and then type in your CAMPUS/Your Full Name (i.e CSULB/Steven Spielberg). Listen to the audio via your computer speakers. Also available: join from your mobile device by downloading the Adobe Connect app!
DID YOU MISS IT?
Watch the recordings here: https://centralstationu.skillport.com
Search: CSU's Got Talent (click View All to see all of the episodes)
Technical questions: Contact Jennifer Wicks, Executive Producer, at jwicks@calstate.edu or 562-951-4525 prior to webcast day.