CSU's Got Talent Webcast Training - Don't You Know Who I Am?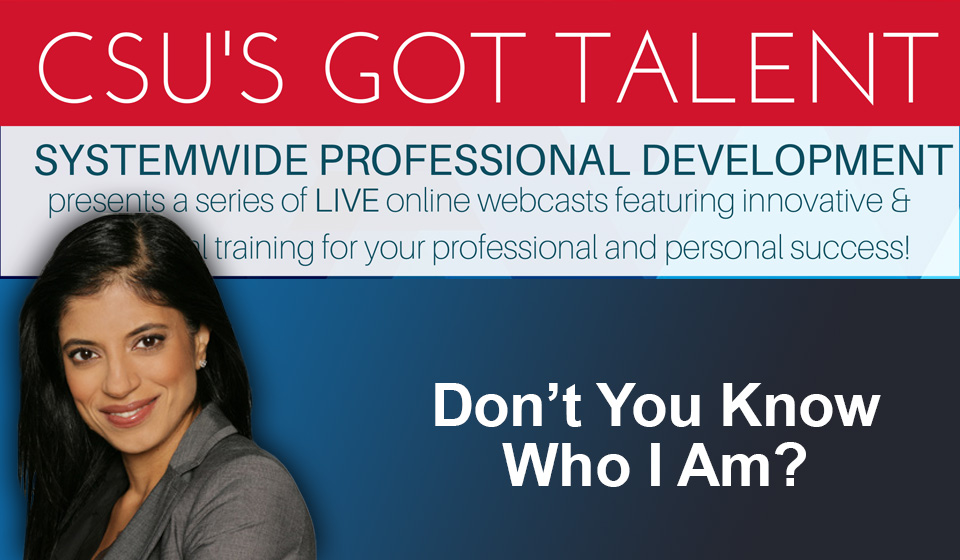 Systemwide Professional Development presents CSU's GOT TALENT, live webcasts featuring innovative & essential training for your professional and personal success!
"Don't You Know Who I Am? How to Stay Sane in the Era of Narcissism, Entitlement and Incivility", November 19 from 10:00 - 11:00 AM PT
About Dr. Ramani Durvasula
Dr. Ramani Durvasula is a licensed clinical psychologist in private practice in Santa Monica and Sherman Oaks, CA and Professor of Psychology at California State University, Los Angeles, where she was named Outstanding Professor in 2012. She is also a Visiting Professor at the University of Johannesburg. She is the author of the modern relationship survival manual "Should I stay or Should I go: Surviving a Relationship With a Narcissist" (Post Hill Press.) She is also the author of you are WHY You Eat: Change Your Food Attitude, Change Your Life, as well as the author of numerous peer reviewed journal articles, book chapters and conference papers. Dr. Ramani received her B.S. in Psychology from the University of Connecticut, and her MA and Ph. D. Degrees in Clinical Psychology from UCLA. She brings a wealth of expertise in relationships, sexuality, health and wellness. Dr. Ramani was the co-host of Oxygen's series My Shopping Addiction, and has also being featured on series on Bravo, the Lifetime Movie Network, National Geographic, the History Channel, Discovery Science, and Investigation Discovery as well as in documentary films on health.
All CSU staff and faculty are invited to attend this free webcast training! No registration necessary, limited to the first 200 logins (multiple viewers can sit in the same room and use one link.)
Please login as a "guest" and then type in your CAMPUS/Your Full Name (i.e CSULB/Steven Spielberg). Listen to the audio via your computer speakers. Also available: join from your mobile device by downloading the Adobe Connect app!
DID YOU MISS IT?
Watch the recordings here: https://centralstationu.skillport.com
Search: CSU's Got Talent (click View All to see all of the episodes)
Technical questions: Contact Jennifer Wicks, Executive Producer, at jwicks@calstate.edu or 562-951-4525 prior to webcast day.