CSU's Got Talent Webcast Training - The 7 Habits of Highly Fulfilled People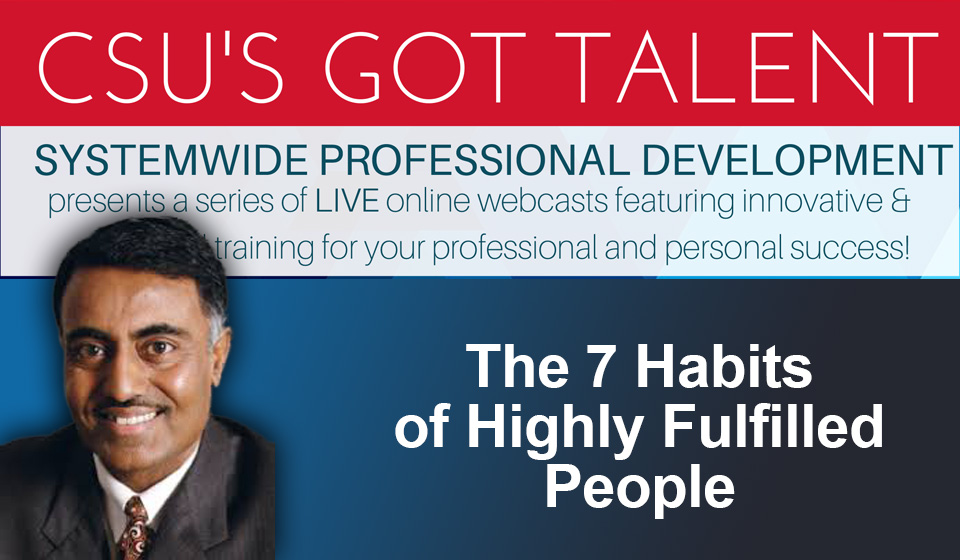 Systemwide Professional Development presents CSU's GOT TALENT, live webcasts featuring innovative & essential training for your professional and personal success!
"The 7 Habits of Highly Fulfilled People: Journey from Success to Significance", September 26 from 10:00 - 11:00 AM PT
Presenting simple processes that bring lasting fulfillment in all aspects of life, Dr. Dhiman underscores the vital difference between success and significance . Illustrating that whereas success is external, significance is internal , and whereas success aims to acquire external objects, significance aims to harness inner qualities, replacing self-centeredness with "othercenteredness" increases a person's contentment in the community, the workplace, the family, and ultimately the self. The key lies in changing engrained mental models rather than fixing the outer environment. Learn ways to transform your search for success into a discovery of profound meaning, and ways to live a fulfilling life using our internal resources.
About Dr. Satinder Dhiman
Professor, Scholar, Author, Wellbeing Consultant
Satinder Dhiman, PhD, EdD, serves as Associate Dean, Chair, and Director of the MBA Program and Professor of Management at Woodbury University's School of Business. He holds a PhD in Social Sciences from Tilburg University, Netherlands; a Doctorate in Organizational Leadership from Pepperdine University, Los Angeles; an MBA from West Coast University, Los Angeles; and an MCOM (with the gold medal) from the Panjab University, India. He has completed advanced Executive Leadership programs at Harvard, Stanford, and Wharton. Professor Dhiman teaches courses pertaining to ethical leadership, sustainability, organizational behavior & strategy, and spirituality in the workplace in the MBA program. Author, co-author, and co-editor of 25 books, his most recent books include Bhagavad Gītā and Leadership (2019—Palgrave Macmillan); Managing by the Bhagavad Gītā (2018—Springer; with A. D. Amar); and Holistic Leadership (Palgrave, 2017); Gandhi and Leadership (Palgrave, 2015). He is the Editor-in-Chief of two multiauthor Major Reference Works: Springer Handbook of Engaged Sustainability (2018—Springer International, Switzerland) and Palgrave Handbook of Workplace Spirituality and Fulfillment (2018 —Palgrave Macmillan, USA)
All CSU staff and faculty are invited to attend this free webcast training! No registration necessary, limited to the first 200 logins (multiple viewers can sit in the same room and use one link.)
Please login as a "guest" and then type in your CAMPUS/Your Full Name (i.e HSU/Steven Spielberg). Listen to the audio via your computer speakers. Also available: join from your mobile device by downloading the Adobe Connect app!
Technical questions: Contact Jennifer Wicks, Executive Producer, at jwicks@calstate.edu or 562-951-4525 prior to webcast day.