HR&APS Welcomes a New Trainer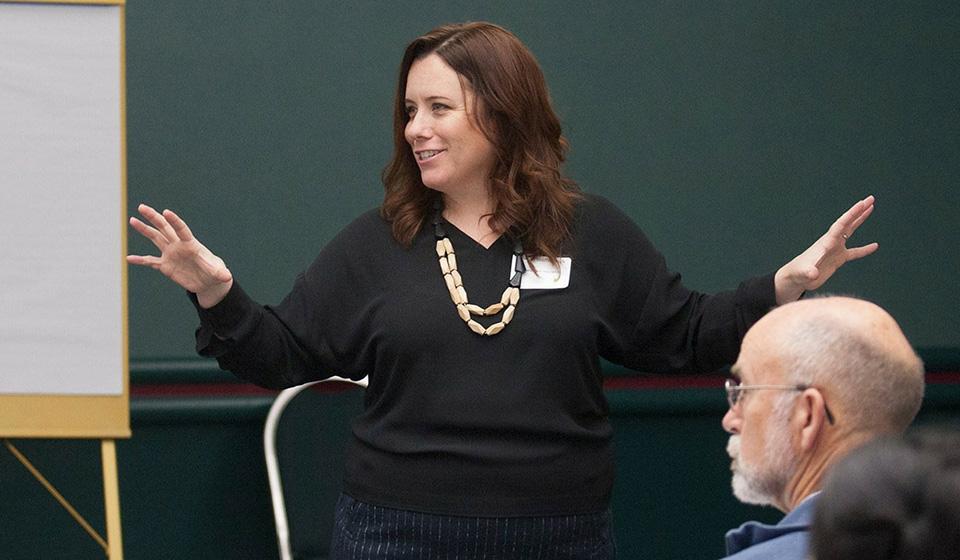 The Department of Human Resources & Academic Personnel Services is excited to introduce Julia Heatherwick, the newest member of our team!  Starting May 1, Julia is assuming the role of Training Specialist, with responsibilities encompassing campus-wide assessment of training needs and training program development, with a particular focus on soft skills training for employees.
Julia brings with her 11 years of experience as a learning and development professional. She has numerous credentials in coaching and facilitation and is a MBTI (Myers-Briggs Type Indicator) certified practitioner. In her prior positions, Julia created customized professional development programs and processes for staff, supervisors, managers and executives. Solutions varied from one-day events to comprehensive learning paths.
Outside of work, Julia is a graphic designer and fine artist. She enjoys hiking, playing music and tennis with her husband, Dave. They are excited about making Humboldt County their new home.
Please join us in welcoming Julia to campus!
Featured Tech Course
Microsoft Windows 10 First Look: Interface and New Features
Microsoft Windows 10 includes several improvements to previous operating systems, as well as several new built-in features. This course will provide a brief introduction to the new interface and features of Windows 10, including the Universal Apps, Cortana, Edge, and the new command prompt. This course is one of a series that provides a first look at the new Windows 10 operating system.
Initial Configuration Options
complete the initial Microsoft Windows 10 installation by using the express settings
complete the initial Microsoft Windows 10 Installation by using the customizable settings
identify the new features available in Microsoft Windows 10
Signing On
configure and use Windows Hello
configure and use a Microsoft live account to sign in and access Microsoft Windows 10
configure and use a local computer to sign in and access Microsoft Windows 10
New Features
configure the new Start button and Universal Apps in Microsoft Windows 10
access the Task view menu and locate multiple desktops in Microsoft Windows 10
access the Cortana menu in Microsoft Windows 10
access the Slide menus in Microsoft Windows 10
open Edge and browse the Internet using the new Microsoft Windows 10 interface
use Snap Assist to place multiple open windows easily on the Microsoft Windows 10 desktop
identify the new command prompt menus in Microsoft Windows 10
Course time: 42 minutes
Follow-Up Training
Employees who complete this course will be invited to attend an Instructor-Led follow up training on campus.  We'll send a personal invitation with the place and date information.
Featured Soft Skills Course
Interpersonal Communication that Builds Trust
Communication works best when your intention is clear, your audience is engaged, and your verbal and nonverbal behavior are respectful. When you hit these notes, you'll build trust with the people you communicate with. To maintain that trust, you also have to be aware of and manage emotions – yours and those of others. In this course, you'll explore how a clear intention drives a communication, and how understanding your audience ensures that the message gets delivered. You'll also learn how verbal signals, nonverbal behavior, and emotional intelligence can help make or break your communications.
Objectives
determine the primary intent of a communication

choose a communication approach that is tailored to your audience

recognize the effects that body language and tone of voice have on building trust in interpersonal communications

use emotional intelligence to improve your interpersonal communications

build trust in your communications by focusing on your intention, audience, body language, tone, and emotions
Course time: 28 minutes
 Did You Know?
More keyboard shortcuts for PC.  Use the command instead of Ctrl key if you are using a mac.
Note: the + sign means that you have to press two keys together.  For example alt + Tab means that you have to press the alt and tab keys at the same time.  If the key you need to press is the actual plus sign it will be specified as (plus) also.
| | |
| --- | --- |
| alt + tab | Switch between main open windows |
| Ctrl + + (plus) or Ctrl + - (minus) | Browser: Zoom In or Zoom Out |
| Ctrl + n | Browser: New Window, or New Document in an application |
| Ctrl + Shift + N | Chrome Incognito Window |
| Ctrl + Shift + P | Firefox Private Browsing Window |
| Ctrl + F5 | Firefox & Chrome Full Refresh window ignoring Cache |
| | |
CSU Skillport Usage Contest Update
Keep up the great work, everyone!
The Chancellor's Office released a status update letting us know that we are among the top five campuses in Skillport usage so far! Our biggest competitors to date are San Luis Obispo, Fresno, Monterey Bay, and Long Beach.   
The competition continues through December, so there's plenty of time to join in the fun!  Improve your skills while helping HSU beat out the rest of the CSU by taking a course or viewing a video through Skillport. 
Need ideas on what to take? Check out the featured Skillport courses in this month's newsletter!
New Employee Orientation
Wednesday, May 17, 2017 - 8:30 - noon
All new employees are invited to an Employee Orientation Program where we will review general conditions of employment, provide benefits information, and answer any employment related questions you may have.
Dec 11 2020 -

11:00am

to

12:00pm
Subscribe to Our Newsletter
Learn to Use Skillport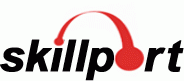 Learn how to navigate, find courses, books, and other content on Skillport.
New HR & APS Website
We are proud to announce the release of the newly redesigned Human Resources and Academic Personnel Services website.  You can now find us at https://hraps.humboldt.edu/.  
Immediately you will notice streamlined menus, simple navigation, and an ever-present search box to help you find what you need! We hope you find the new website informative and user-friendly; we worked hard to make sure it contains valuable information to assist you with your HR & APS needs.